2019-04-16 15:40:22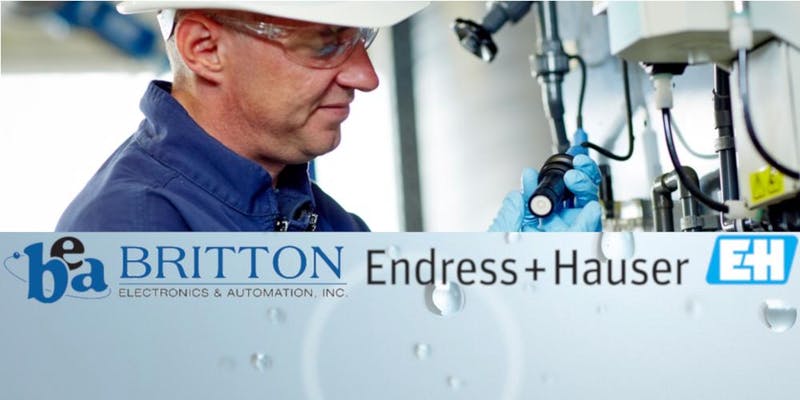 Great turn out for the Lunch and Learn with BEA and Endress+Hauser

Special event to learn about the latest technology in water and waste water analytical and measurement. How you can use these technologies to your advantage on the job every day.

WHAT WAS COVERED:
Flow meter technology in the Connected Plant.
How Digital Memosens Technology for Analytical Sensors (including Advanced Aeration control and Nutrient Analyzers and Turbidity can help you.
Radar Level technology for Environmental Industry – FMR20 technology and Heartbeat for level detection.
Join Us on our next event..
---
2019-01-15 19:13:22
VeriSafe ™ Absence of Voltage Tester
The Safe Way to Verify the Absence of Voltage.
When servicing electrical equipment, workers must comply with safety regulations that require a voltage verification test to validate the absence of voltage. This process includes a number of stages that can be complex and time-consuming when using hand-held portable test instruments.

The VeriSafe ™ Absence of Voltage Tester from Panduit simplifies this process by automating the voltage verification process.

Once installed, a simple push of a button enables qualified electrical workers to verify the absence of voltage and see an active indication when the absence of voltage is confirmed. This provides a new and innovative way to safely, reliably, and efficiently verify the absence of voltage before accessing potentially dangerous electrical equipment.
| Key Features | Benefits |
| --- | --- |
| Improved Safety & Risk Reduction | Determine voltage status BEFORE equipment is accessed Prevents direct exposure to electrical hazards |
| Increased Productivity | Easy to use, initiate test with the push of a button No additional tools required Provides visual alert to abnormal power conditions |
| Simplified Process for Easier Compliance | Test sequence based on the steps in NFPA 70E for verification of an electrically safe work condition Automated test helps reduce operator errors |
| Reliable Results | Fail-safe design with active indications Safety functions meet SIL 3 per IEC 61508-1 Flexible Applications Designed for testing three-phase circuits up to 600V Install on line or load side of electrical disconnect Detects absence of AC and DC voltage |
| Multiple Environments | All VeriSafe ™ Absence of Voltage Testers are tested to NEMA 4X, IP66, IP67 VS-AVT2 parts are rated to Class 1 Division 2, and Class 1 Zone 2 environments |
---
2019-01-13 18:17:47
Model BR313F Flush Submersible Level Transmitter

Model 313F Flush Submersible Level Transmitter utilizes a 1.12" diameter flush ceramic sensor to reduce grease and biosolid buildup and minimizes cleanup. The corrosion-resistant 316L stainless steel construction, and an integrated hydrophobic breather vent help provide years of maintenance-free service.

---

FEATURES:

• 28mm flush ceramic sensor
• 0 to 2 PSI thru 0 to 30 PSI (69 FTWC)
• Corrosion resistant, leak-proof construction
• 1.50" diameter housing
• 4-20 mA output
• 1/2" NPT conduit with Hytrel® cable rated for Hydrocarbons
• Flush design saves cost and down time by eliminating sensor clean up

---

APPLICATIONS:

• Submersible pump lift station level monitoring
• Water tanks and reservoirs
• Process sumps
• Water and wastewater level monitoring
• Water recycling
• Other aggressive media
---
2019-01-13 17:47:50

UL 1449 Listed surge protection
07/09/2018
VAL-US simplifies product selection, status monitoring, and integration
Middletown, Pa. – Phoenix Contact's new VAL-US surge protection is Listed to UL 1449 and is available with up to 80 kA surge capacity. This line was developed specifically to conform to North American-centric voltage values and includes a wide variety of U.S.-based circuit configurations. The VAL-US provides a UL Listed alternative to traditional hardwired SPDs, allowing for fewer installation steps and easy integration into virtually any system.
---
2019-01-13 17:50:02
How can the Industrial Internet of Things help you optimize your production plant? Download our free white paper on IIoT now.
Find Out How Here
---
2019-02-01 15:24:22

Introducing Wireless Solutions Kits for Monitoring Vibration
Wireless Solutions Kits Simplify Monitoring of Rotating Equipment

Banner's new Wireless Solutions Kit for vibration monitoring is a fully integrated and easy-to-use solution for monitoring assets with rotating motion. It is designed to make it easy for users of any experience level to setup a wireless network, establish performance baselines and thresholds, and collect data from motors, fans, pumps, compressors, and similar equipment.
---
2019-01-10 19:23:36
Perhaps you've been an electrician for a while. Or maybe you're just starting out. No matter how much experience you have, it's always good to spend a few minutes thinking about how to end the day in the same shape as you started it—without any injuries.
The 10 pieces of advice we present here have been updated slightly so the references are to the newest version of NFPA 70E.
Here's a quick list of the 10 ways:
Thinking that it's "only 120 volts" or 208 volts or 480 volts or…
Working on energized systems or equipment when it can be de-energized
Not wearing PPE
Going to sleep during safety training
Using outdated or defective test equipment to troubleshoot
Not wearing the right PPE
Trusting someone else for your safety
Not performing required maintenance of power system equipment
Not carrying your gloves with you
Not working an Energized Electrical Work Permit system
There's always something else that could be included in this list, but 10 gets you thinking. We go through life making small mistake after small mistake and nothing happens, until we happen to get the wrong alignment of small mistakes and we now have an accident. Once the accident starts, we have no control over it, so the best thing to do is to avoid the small mistakes and tighten up the way we work.
---
© 2018 Britton Electronics & Automation Inc.
™ Britton Electronics & Automation Inc.