2022-04-27 14:11:59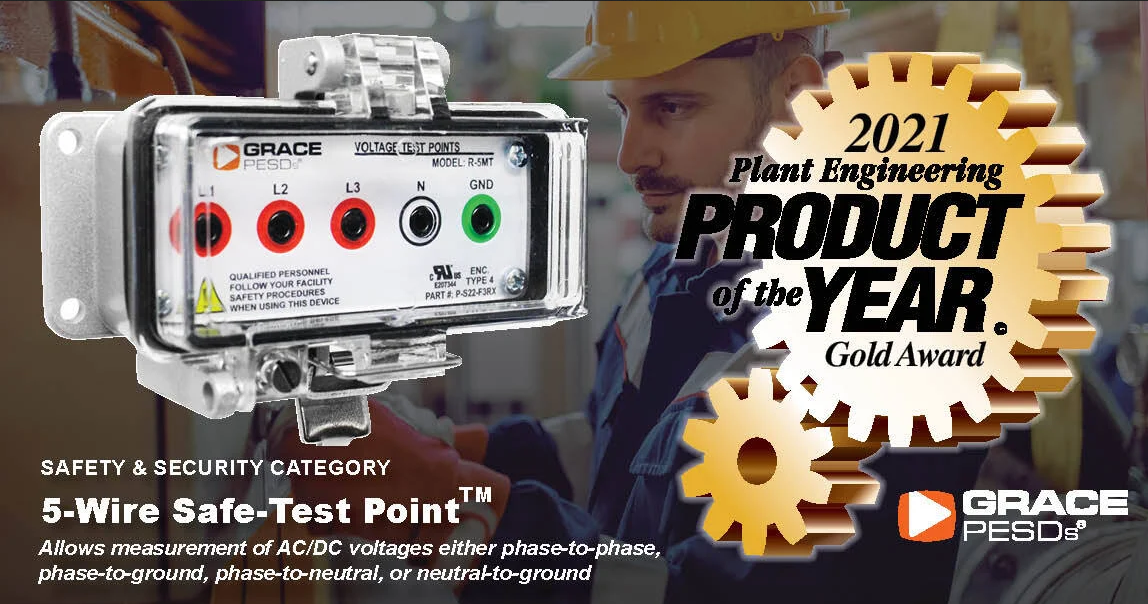 We're very pleased to announce that the GracePESDs® 5-Wire Safe-Test Point™ has taken the GOLD award in the Safety & Security category of Plant Engineering's 2021 Product of the Year Program! This is the third time we have been awarded recognition by Plant Engineering for outstanding products.
The GraceSense™ ControlGate took the BRONZE award last year in the IIoT category and the Vibration & Temperature Node took SILVER in 2019. To celebrate the Safe-Test Point being recognized as the best product submitted in the Safety & Security category, we are offering a free sample of the Safe-Test Point!
"The finalists of the 34th annual Plant Engineering Product of the Year awards varied across 15 categories. This program honors the best innovations of 2021, as voted by the audience of Plant Engineering. The 2021 Product of the Year Grand, Gold, Silver, and Bronze award winners are honored in the May/June 2022 issue of Plant Engineering magazine." -Plant Engineering
Arc flash and shock hazards most commonly occur during Lockout/Tagout (LOTO) procedures where direct contact and exposure to live voltage are possible. The Safe-Test Point limits this contact and exposure by allowing qualified personnel to safely perform LOTO procedures and test for absence of voltage with a panel door closed. The high-impedance protected test points allow a multimeter to measure AC/DC voltages either phase-to-phase, phase-to-ground, phase-to-neutral, or neutral-to-ground.
---
© 2018 Britton Electronics & Automation Inc.
™ Britton Electronics & Automation Inc.